by Sonja Mille and Rainer Deutner, Apprentices in Austria
After an adventurous journey across Mexico City on 30.05.2013, we arrived at the children's home San Vicente. We were warmly welcomed and were allowed to visit the home and contact the children.
In the large therapy room, which was almost completely laid out with mats, we began to play with the younger boys. It was very easy to get in loving contact with them. The boys reacted very joyfully and vividly to us and quickly went into physical contact.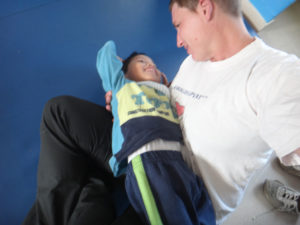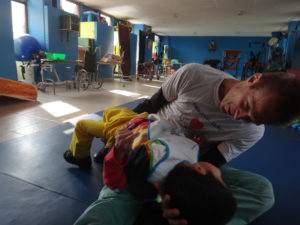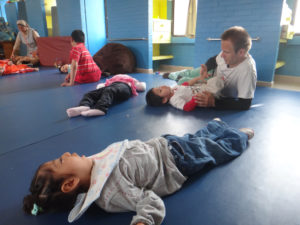 On a 3-year-old boy, the sisters have made us particularly aware, because he had experience of violence in the family and could hardly allow physical contact. Our experience with him was very positive. With much empathy and consideration for his own space and respect for his limits, the boy could allow more and more touch. He did not let himself be picked up or hugged, but he rocked himself on his back in his own rhythm into our arms. Our recommendation: Several times a day for a short time (5-10 min.) to offer touch and follow his movements, as long as he feels comfortable.
Then we played with the older boys. The energy was very different, it ranged from loving cuddling to powerful wrangling. They could make new body experiences: for example be rocked lying on our backs.
With three younger and two older girls, the game was very emotional and pleasurable. They jumped on our backs and rolled off. There was a lot of laughter and romp. They could not get enough of lively be together.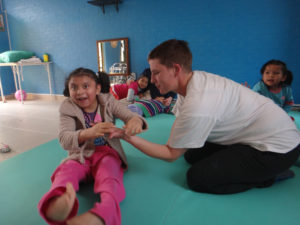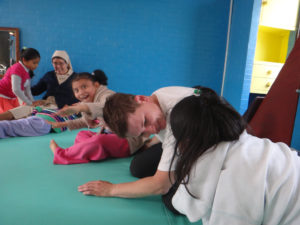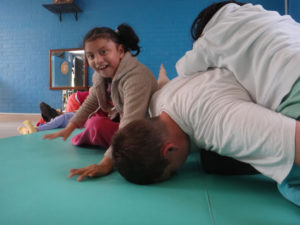 The play was also very touching with the severely affected children (partly in wheelchairs), ranging from gentle touches with hands to powerful hugs.
Overall, the atmosphere in San Vicente is carried by great calm and loving people. We felt very well and thanked the sisters for their trust and positive feedback, who assured us that our work was very valuable and that we were always welcome back in San Vicente.
¡Muchas gracias!
Sonja Mille and Rainer Deutner
The next day, the 30.05.2013 in the morning I have once again made my own way to San Vicente and was allowed to play the whole morning with all children. It was nice that the kids already knew me and looked forward to playing. And I got along completely without language! Since I do not speak Spanish, we only communicated with each other through our bodies and played with each other from the heart.
Love,
Sonja Mille
Original Play im Kinderheim San Vicente – Mexiko City – Mai 2013
von Sonja Mille und Rainer Deutner, Apprentices in Österreich
Nach einer abenteuerlichen Anreise quer durch Mexiko City am 30.05.2013 sind wir im Kinderheim San Vicente angekommen. Wir wurden herzlich empfangen und durften das Heim besichtigen und mit den Kindern Kontakt aufnehmen.
Im großen Therapieraum, der fast vollständig mit Matten ausgelegt war, begannen wir mit den jüngeren Buben Original PlayⓇ zu spielen. Es war sehr einfach, in liebevollen Kontakt mit ihnen zu treten. Die Buben haben sehr freudvoll und lebendig auf uns reagiert und sind schnell in körperlichen Kontakt gegangen.
Auf einen ca. 3-jährigen Jungen haben uns die Schwestern besonders aufmerksam gemacht, weil er Gewalterfahrungen in der Familie hatte und kaum körperliche Nähe zulassen konnte. Unsere Erfahrung mit ihm war sehr positiv. Mit viel Einfühlungsvermögen und Rücksichtnahme auf sein eigenes Tempo und Wahrung seiner Grenzen, konnte der Bub mehr und mehr Berührungen zulassen. Er ließ sich nicht hochnehmen oder umarmen, aber er schaukelte sich am Rücken liegend aus eigenem Antrieb und in seinem Rhythmus auf unsere Hände und in unsere Arme. Unsere Empfehlung: Mehrmals am Tag für kurze Zeit (5-10 Min.) Berührungen anbieten und seinen Bewegungen folgen, solange er sich dabei wohl fühlt.
Anschließend spielten wir mit den älteren Buben. Die Energie war sehr unterschiedlich, sie reichte von liebevollem Kuscheln bis zum kraftvollen "Rangeln". Sie konnten neue Körpererfahrungen machen: z.B. auf unseren Rücken liegend geschaukelt werden.
Mit drei jüngeren und zwei älteren Mädchen war das Spiel sehr bewegt und lustvoll. Sie sprangen auf unsere Rücken und ließen sich abrollen. Es gab viel Lachen und Herumtollen. Sie konnten gar nicht genug bekommen vom lebendigen Miteinander.
Sehr berührend war das Spiel auch mit den schwerer betroffenen Kindern (teilweise im Rollstuhl), das von sanften Berührungen mit den Händen bis zu kraftvollen Umarmungen reichte.
Insgesamt ist die Atmosphäre in San Vicente von großer Ruhe und liebevollen Menschen getragen. Wir haben uns sehr wohlgefühlt und bedanken uns für das Vertrauen und die positiven Rückmeldungen der Schwestern, die uns versichert haben, dass unsere Arbeit sehr wertvoll sei und dass wir jederzeit wieder in San Vicente willkommen seien.
¡Muchas gracias!
Sonja Mille und Rainer Deutner
Am nächsten Tag, den 30.05.2013 in aller Frühe habe ich mich noch einmal alleine auf den Weg nach San Vicente gemacht und durfte wieder den ganzen Vormittag mit allen Kindern Original PlayⓇ spielen. Es war schön, dass die Kinder mich schon gekannt und sich auf das Spielen gefreut haben. Und ich bin ganz ohne Sprache ausgekommen! Da ich leider kein Spanisch spreche, haben wir uns nur über unsere Körper verständigt und von Herzen miteinander gespielt.
Love,
Sonja Mille